Imagine that you were to lose all your data from your hard disk, lose your USB drive, lose your computer or other mishaps. Although you know the urgency and priority to back up all your important data, no time and not free are always the issues. Or the worst when virus or spyware cause you suddenly lose all the data in your hard disk. What can you do to prevent all these? How you wish to have an automated system to back up all your data without any interruptions to your busy schedule?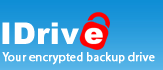 Try out the reliability of iDrive, your encrypted backup drive. It provides a complete hands-free solution to your backup for your data in your hard disk, USB drive, mapped drive etc. How big is the space? How much do you expect to pay for the solution? If I am telling you that it is free, for 2GB, for new registration, do you believe?
No joke! It's true. Only 4 steps to start using it:
Create an iDrive account
Registration validation
Select a plan (2GB for Basic – Free of Charge, or highly affordable monthly or yearly rate for Pro Plans: Personal @ 150GB and Business @ 50GB/100GB/500GB)
Enter credit card information (applicable for Pro Plans only)
It has never been more user-friendly than the interface similar to Microsoft Windows Explorer. Main features include search & restore, true archiving & synchronization, automation selection after first sign-on, continuous protection, manage backup set by schedule, retrieval data from anywhere and versioning. The best feature is the versioning which space is computed only for the most recent version, at the same time, historical versions are stored free. Yeah! There is nothing better than free.
The website is very pleasingly designed with frequently asked questions, download, compliance, support, demo, pricing, partners, features and security.
Can't wait to register? Never lose your data after you have signed up from http://www.idrive.com/p=beaulife_innovativ then download the software to install it. Guess what? Just refer your friends to sign up the 2GB space for free and you will be rewarded a free upgrade to 10GB. Cool, right?
Related posts: